Sunday, June 20, 2004
posted by James - 7:06 PM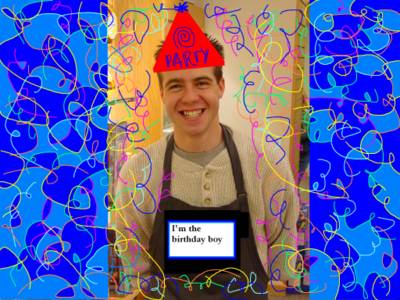 Photo Illustration by Chef Sunshine... aka the Wife Just North of Wrigley Field
My beautiful and talented wife came up with the perfect web expression for one of today's major events... if you must, call it an online birthday card for our very own, Skippy!!!

As you all can see from previous posts, he's enjoying this weekend to the fullest down in Portland. I'm sure he'd tell you the most important part is enjoying it with his father... at the races, on the links, at the bar and celebrating both his birthday and Father's Day!!! Dude! Double Celebration! Suh-weet!

Not only that, but both the Mariners and Cubs won today. That's becoming less and less of a rare occurance. Which I don't really have a problem with (they did whup on the Expos at my appearance at SafeCo Field last week) - though it won't help with the getting rid of Melvin and Bavasi.

Happy Father's Day to fathers everywhere!!!